UPDATE
Dear Customers,
Please take note that with effect from 01st January 2023, there will be an increase in price for the purchase of Cat Cocos tickets.
For any inquiries do not hesitate to contact 4297165 during working hours or our emergency number on 2618115 after working hours.

The Management of Inter Island Boats Ltd would like to thank you for your understanding and cooperation, throughout.
We would like to remind our customers that our schedules are subject to change frequently.  Please check our website schedule or Facebook page for up to date schedules.
Welcome to the official website of Catcocos!
Cat Cocos, the leading ferry operator in the Seychelles, has been proudly carrying passengers between Mahe, Praslin and La Digue since 1998. Our modern fleet of catamarans operates daily reliable services between the Inner Islands. Equipped with better and more accessible facilities, we are pleased to make your reservation easier and your journey more enjoyable. Our highly trained team of employees work very hard to ensure that our valued customers receives the lifetime experience they expect from our company.
As our motto instates, "Proudly Seychellois", we are more dedicated to convey to you, our esteemed customers, the Seychelles experience in the best comfort of your seat.
Over the years, Cat Cocos has been investing largely in new fleet of vessels and consequently, we have sprouted from 1 catamaran to 4 modern ferries of high speed catamarans. In doing so, the management has done its utmost to ensure that it complies with the local and international safety and security requirements. As such, the reliability of our vessels, safety of our trips and customer service of our passengers are well maintained and remains of paramount importance to us.
Schedule Effective July to September 2023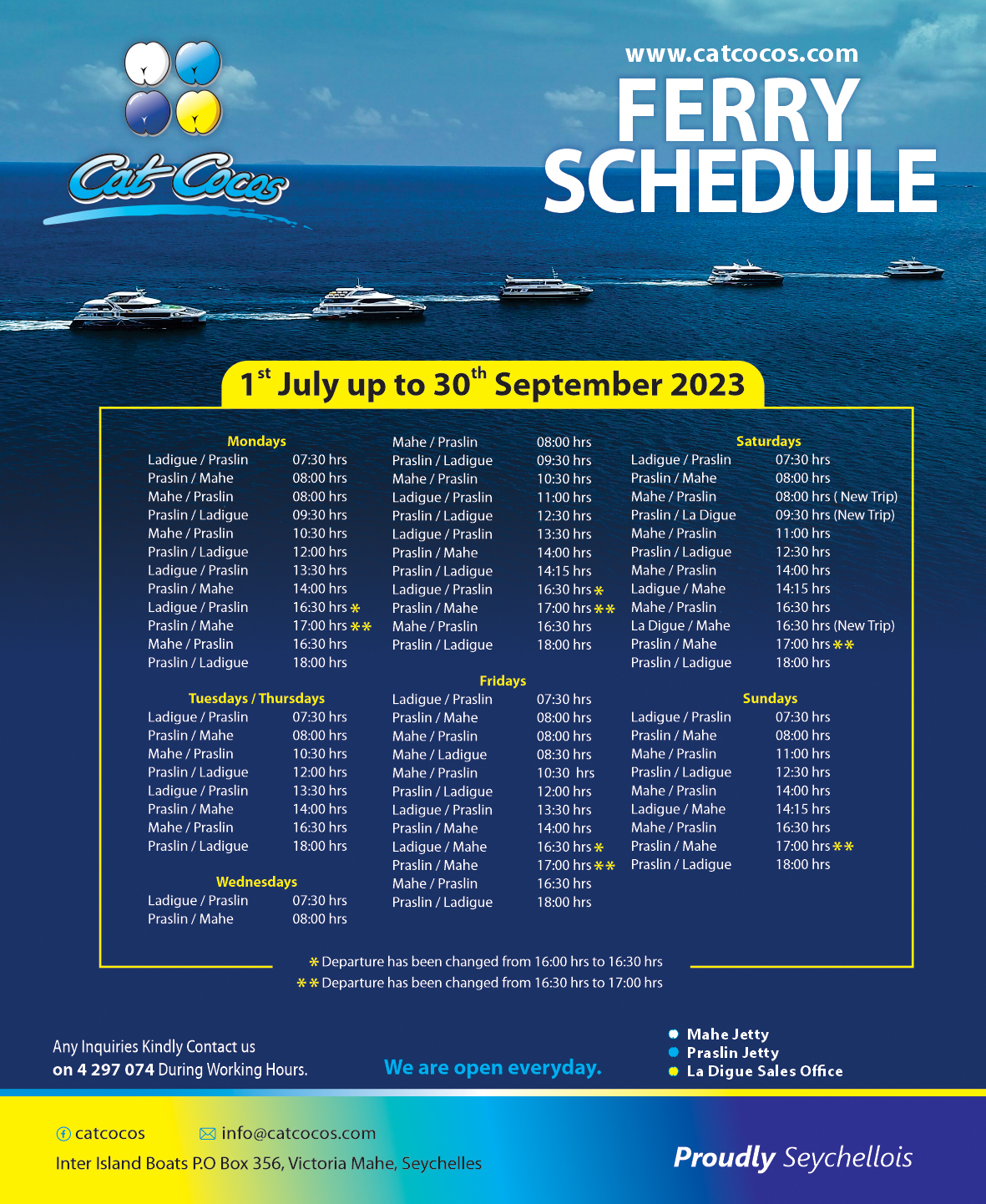 Schedule Effective October to December 2023